It's going to be an F1 racing season that keeps on giving. As we go through practice sessions, qualifying stages and races, it constantly seems to come down to Max Verstappen against Lewis Hamilton, and therefore Red Bull against Mercedes-Benz.
It's going to be an F1 racing season that keeps on giving. As we go through practice sessions, qualifying stages and races, it constantly seems to come down to Max Verstappen against Lewis Hamilton, and therefore Red Bull against Mercedes-Benz.
We've been waiting for this for seven seasons of F1 Hybrid and it seems worth the wait. It's about speed, consistency, cunning, racing, calculated risk and delivering all day every day. I'm really happy to witness it.
It's always special to revisit Paul Ricard, which brings back memories of the 80s, when this event had the air of a sporting party and a summer vacation, under the sun of the heights of the hills of the Côte d'Azur. .
The trail was still fast and old-fashioned with spooky runway exits filled with sun-baked gravel and the dreaded wire mesh and wooden posts called "capture fences" that could often do more harm than good.
It's a very similar layout today, a third of a century later, but the now vast areas of runoff are filled with a kaleidoscope of red and blue stripes that can fool your eyes. This colorful paint is supposed to be very grippy in slowing cars down when skating, although when it is inevitably dusty it just seems to rip the tires before dropping the car into the barriers anyway.
The place has always been a tire killer regardless of the racing category and tire maker and, after the Baku blowouts for Verstappen and Lance Stroll, the FIA ​​issued a comprehensive 'technical guideline' that defines an important package new controls for tire pressure management and heating blanket.
Without ever really saying it, the inference was that Red Bull and Aston Martin had run their tire pressures below recommended lows on the track and thus contributed to tire failures, which these teams firmly denied. It is a very serious matter if the safety of drivers and track workers is jeopardized for performance.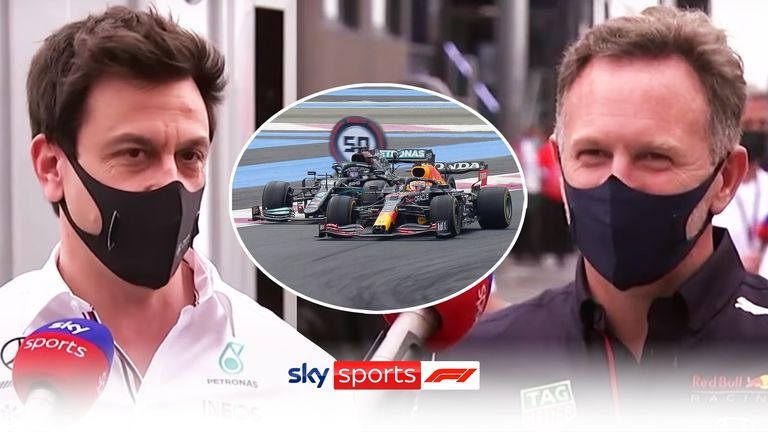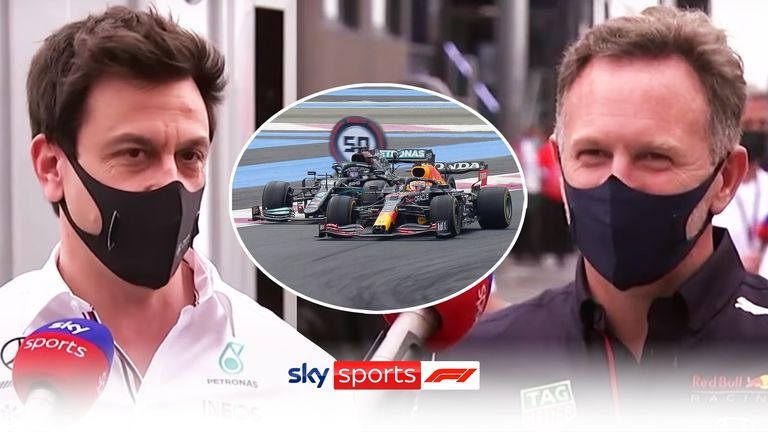 Mercedes team principal Toto Wolff and Red Bull team principal Christian Horner reflect on an incredible battle between Lewis Hamilton and Max Verstappen at the French GP.
Pirelli wants the safety of higher inflation pressures that add strength and support to their tires – after all, any tire manufacturer who is the sole supplier to a championship just doesn't need the very bad publicity. tire failures. They are guaranteed to win anyway.
The weight, downforce and 1,000 horsepower engines put a strain on F1 tires and their four contact zones that transmit everything to the track. It's a cat-and-mouse game between performance engineers and tire suppliers for grip versus structural integrity, as it has for decades.
Ironically, Red Bull and Aston Martin had relatively strong races, unlike Ferrari, which suggests that the story has been played too much, much like the controversy over the flexible rear wing. This is not a big surprise as teams are always looking for a myriad of small improvements, and so the setbacks will also be just as small.
There was another stormy cup of tea story in the curious case of Mercedes "spinning" their chassis between the drivers, which feels more like a rocker than a spin. When it all changed, the focus remained on a fight for pole position between Hamilton and Verstappen, which Max won with a formidable lap, and not his first of the weekend.
The rear gunners of Valtteri Bottas and Sergio Perez were exactly that in the qualifying calculation.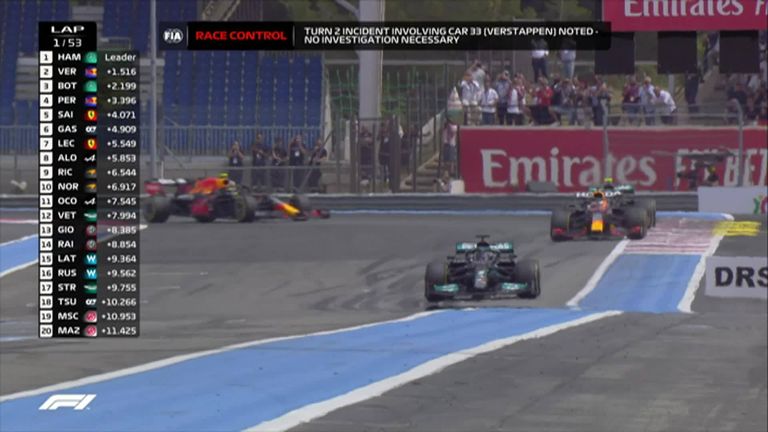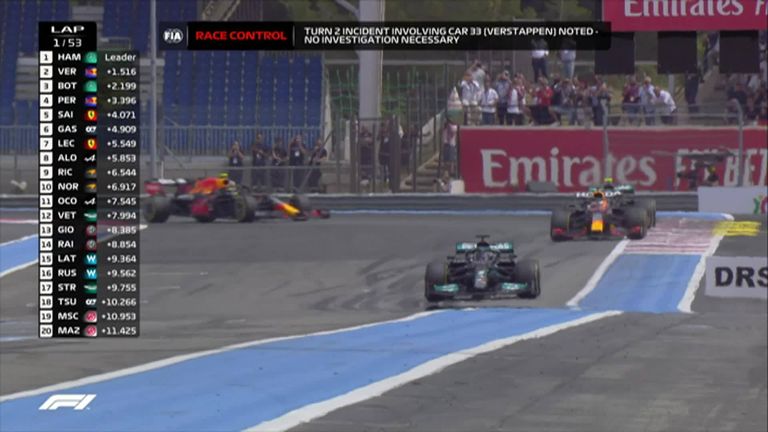 Lewis Hamilton passed Max Verstappen for the lead in the first lap in France.
A downpour on the morning of the race gave the track a good wash that would remove some of the gum diligently laid during practice sessions and thus reduce grip. On the descent to the first turn, Max never felt comfortable enough to drive hard to the right and claim the full race line in the left turn, which left him turning quite strong with a wind back for good measure. The rear slipped and Hamilton took a solid lead.
At first it seemed Mercedes had the upper hand and Bottas looked particularly quick as the trio moved away from Perez and the rest of the field. But Mercedes was using their tires more and Bottas apparently had a vibration due to a blockage so they pitted him against the first of the leaders on lap 17. Red Bull immediately covered that on lap 18 to keep Verstappen ahead, then Mercedes headed Hamilton with a lead on lap 19.
To the whole world, it looked like Mercedes believed they had cut Verstappen with Bottas and then kept Lewis in the lead. They say no, but they have wasted a lot of time.
A total cost of pit stop time includes "lap" pace including any traffic, attacking the pit lane speed limit, approaching your own pit at a reasonable but urgent speed without dispersing your crew and stopping precise on your marks.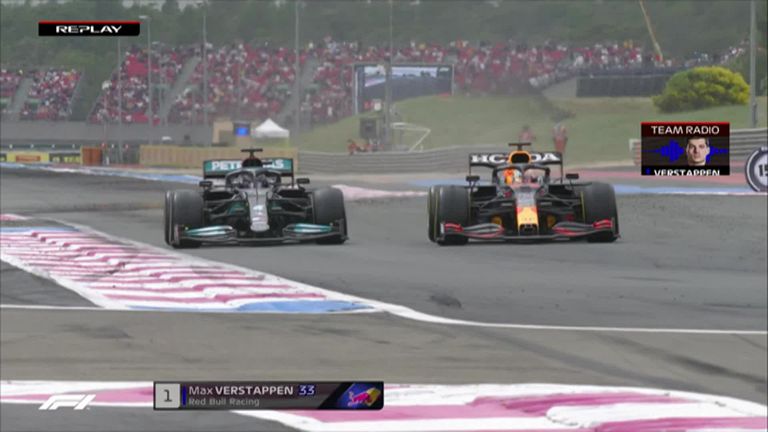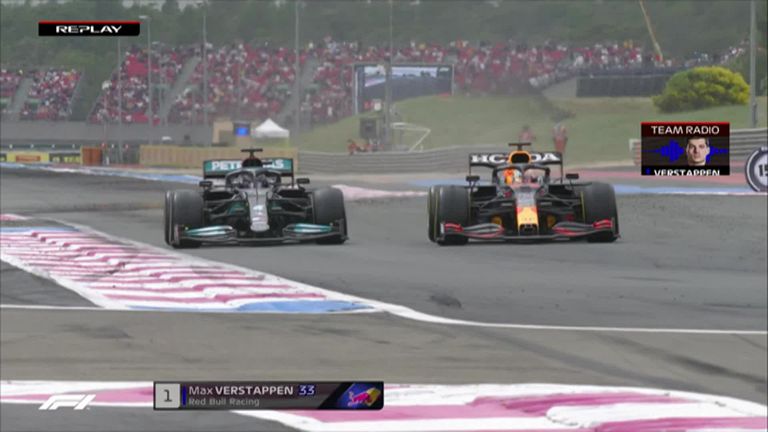 With less than two laps to go, Red Bull's Max Verstappen overtook title rival Mercedes Lewis Hamilton for the lead.
This is followed by the tire change itself, then how fast you can let go of the clutch and get into the fast pit lane and come back hard into the limiter (40 mph at Ricard), then release the limiter just on the pit exit line and leveling up throughout the 'exit lap', once again including all traffic.
Pitching earlier to get new tires past your rival is called clearance and he was very powerful that day. Mercedes was on the wrong foot and their data suggested Lewis was safe, and even in the post-race interview Lewis said he didn't understand how he had lost his mind.
The top three drivers all made it clear over the radio that at the grueling pace they were pushing, they wouldn't make it to lap 53. Red Bull returned Barcelona's compliment earlier this year by relinquishing their position on the track and committing to two saves. by opposing Max on the 32nd round. It was too late for Mercedes to react and so the only two levers they had left to pull were for Bottas to hold Verstappen while he sped along on cool medium tires, and for Hamilton to pick up the pace on old tires. as he has done several times before.
Neither lever was enough to stop Verstappen's brilliant victory in a thrilling race.
I don't agree that Hamilton was too soft in letting Verstappen pass. He had no more tires and overtaking was inevitable before the finish given the straight line speed of the Red Bull and the assistance of the DRS. In the same way that Verstappen was not super aggressive when Hamilton passed him in Budapest and Barcelona before under similar circumstances.
It's a bit like knocking down your king in a chess match, your defeat is inevitable and you can also earn the 18 points for the second and heal your wounds ready for another day, rather than bursting a tire or losing. your front wing.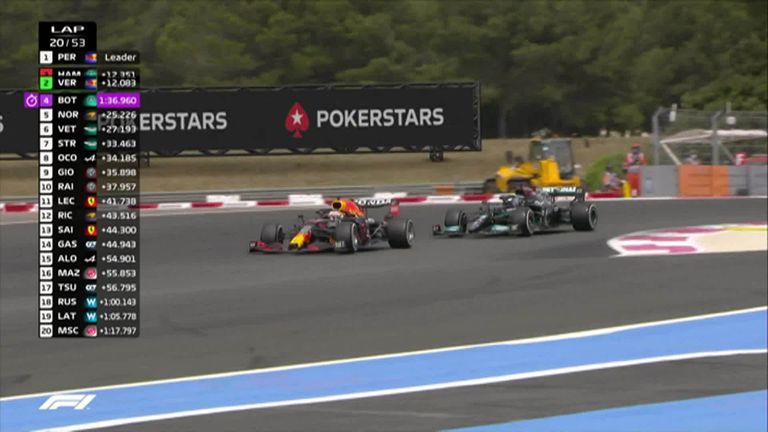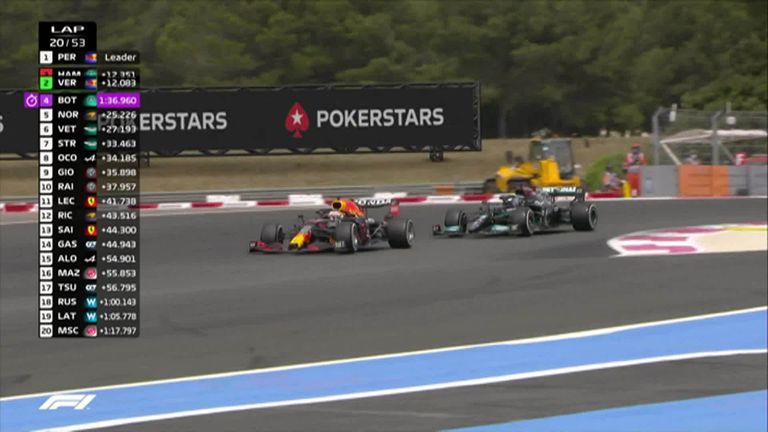 Lewis Hamilton came out behind title rival Max Verstappen after his pit stop as the Red Bull driver finished the effort to move up second.
Bottas was rightly furious that his team hadn't listened to him for two stops and, to add insult to injury, Perez passed him for third place, making his own stop on Lap 24 an impressive job. . And because Perez was under investigation for missing the Signes turn, Mercedes didn't think it made sense to do the fastest lap with Bottas, giving Max the hat trick from pole, to victory and fastest lap, his first in Formula 1.
For the 10th time in F1 history all starters have finished the race, and honorable mentions must go to McLaren for Norris and Ricciardo in fifth and sixth; Aston Martin is ninth and 10th, the latter being Lance Stroll of 19th on the grid. Fernando Alonso for his fourth place in points in six races, and Pierre Gasly for his very good job again for AlphaTauri. And George Russell, who I barely remember seeing the long race, finished 12th for Williams.
We're in a triple header with two more races in Austria to come, and a track where Red Bull and Verstappen battled Merc even before this current explosion of newly found speed and reliability.
Can Mercedes regain the upper hand, or will Verstappen and Red Bull extend their leadership in both championships?